Stage 5 Awards
To commemorate Season 9 of American Ninja Warrior the Armchair Ninja Podcast is put together an awards show to honor the best moments, ninjas, and obstacles of the season!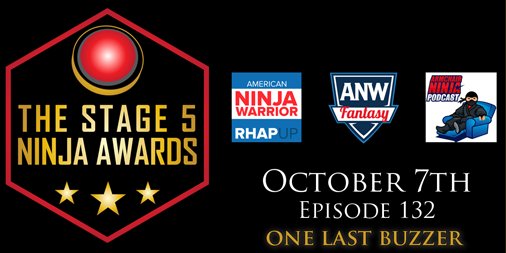 Check out ninjapodcast.com to hear the full podcast where Rich announces the winners and we talk about the amazing time that was Season 9 of American Ninja Warrior.
The Stage 5 awards were voted on by 9 American Ninja Warrior Content Creators:
Rich and Bijan from the Armchair Ninja Podcast
Taran and Lita from Rob Has a Podcast's American Ninja Warrior RHAP UP
Will from TwoTwentyTwo Productions
For those who just want to see the results below are the categories and nominees for the Stage 5 Awards (incase it wasn't obvious, spoilers):
Best Breakout Rookie (Male):

Winner:
Charlie Andrews
Tyler Gilett

Kevin Carbone

Josh Salinas

Jody Avila - nominated but we later found out was not technically a rookie
Best Breakout Rookie (Female):

Winner:
Zhanique Lovett
Bree Widener
Lindsay Eskildsen

Sara Hessen

Barclay Stockett
Rebekah Bonilla were nominated for this category before we found out they had unaired runs in previous seasons
Best New Obstacle:

Winner:
Double Dipper
Wingnuts (both variations)

Ninjago Roll
Crank it Up

Nail Clipper
Ninja Killer of the Year:

Winner:
Wing Nut Alley - Stage 2 - 3/27, 11.11% completions
Nail Clipper - Cleveland City Finals - 2/22, 9.09% completions

The Wedge - Denver City Finals - 3/16, 18.75 % completions

Floating Monkey Bars - Kansas City City Finals - 2/9, 22.22% completions

Hourglass Drop - San Antonio City Finals - 6/24, 25% completions

Most Impressive Stat/Record (the nerd award):

Winner:
Joe Moravsky - 4/5 seasons he's reached Stage 3, and not gotten wet until he got there.

Ian Dory - 4th straight City Finals Clear

Brian Arnold - 6th Straight Stage 1 Clear

Travis Rosen - Oldest man to complete Stage 1 (42)

Drew Drechsel - Fastest time on CQ, CF, and Stage 1
Best Comeback Story:

Winner:
David Campbell - first time clearing Stage 1 since Season 3
JJ Woods - cleared stage 1 after fell in city qualifiers last year

Lance Pekus - cleared stage 1 after fell in city qualifiers last year

Travis Rosen - cleared stage 1 after fall on first obstacle last year
Kacy Catanzaro - beat the Propeller Bar in Stage 1 after multiple years failing it
Shameful Moment of the Year:
Winner:
Vegas Finale Preview - Showing Najee Richardson on the Cliffhanger

Kristine Leahy - Stage 2 interview of Drew Drechsel
Pec Flex Boot Camp - Eddy Stewart's segment in Daytona Qualifier
New Women's Rule - Top automatically qualify for City Finals and top 2 for Vegas

Souter 7 - Seven qualifier positions given to one family
Shocking Fall of the Year:

Winner:
Jessie Graff
Brian Wilczewski

Jake Murray

Grant McCartney

Towers of Power

Drew Drechsel
The Invisible Ninja Award:

Winner:
Flip Rodriguez

Nicholas Coolridge

Andrew Lowes

Matthew Ilgenfritz
Ryan Stratis
Honorable Mentions:
Michael Silenzi
David Cavanagh
Jeremy Morgan
Thomas Stillings
Female Ninja of the Year:

Winner:
Allyssa Beird

Jessie Graff

Jesse Labreck

Barclay Stockett

Maggi Thorne
Honorable Mentions - not included in the voting but still impressive seasons
Meagan Martin
Michelle Warnky
Male Ninja of the Year:

Winner:
Joe Moravsky

Najee Richardson

Sean Bryan

Drew Drechsel

Lance Pekus
-all pictures from https://www.nbc.com/american-ninja-warrior/photos